About The Artist - Alice M. Bateman
From an early age I have been interested and curious about all things in nature. This inclination led me to re-create that which I saw. Before I could read I was looking at art in my parents many art books and magazines.
I grew up in New York City where I loved going to the Museum of Modern Art and the Guggenheim to see their collections. During these frequent visits I was able to absorb the pathos of Picasso's "Guernica," and study Pollock's methodology. These early lessons, seared on my retina, left an indelible impression.
By the early 1950's my parents began to explore Mexico during the summer months. The 3000-mile drive, NYC to central Mexico, was an education in itself of people, places, language, geography. There was so much to see in the form of great architectural complexes, monumental sculptures, and all forms of figures, masks and vessels in terra cotta from the pre-Columbian civilizations.
For six summers we made this incredible journey, to and from NYC, to a village on Lake Chapala in Jalisco. In my parents' quest to visit unfamiliar places and new cultures, Mexico provided a raw freshness and an exotic land with few outsiders. For my brothers, Christopher and Anthony, and me it was like Eden, and in our youthful ways we moved between cultures with ease, learning Spanish and the local dialects. My parents fell in love with Mexico. In 1958 they decided to live in Mexico, with my father "commuting" for long weekends.
I entered a Mexican school, first in the village and then in Guadalajara. When I graduated in 1963, I began my formal studies in art at the University of Guadalajara and spent one year there. In 1964 I left for England, visiting with dear friends of my parents, Richard & Nancy Carline to continue my studies.
I understood that Art was a language to be learned in order for an artist to communicate the story of our collective experiences. It was a path I would joyfully follow without hesitation for the rest of my life. It opened my eyes to seeing and with that discerning vision my search for meaning was furthered.
I began as many artists do - as a painter. But it was in creating "form," the object that co-exists with us, that my direction would be found. Drawing and painting were the formative years for developing the necessary skills to understand shape and structure, the essential nature of form, and this was done through the study of the human figure.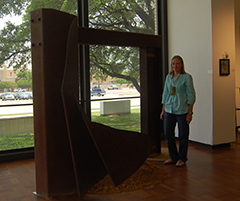 In London at the Byam Shaw School of Drawing & Painting, headed by Maurice de Sausmarez, I learned the foundation for seeing the human figure in all its form. At the same time I was taking classes with Jean Gibson, creating small sculptural forms in plaster at her studio in Kensington.
After completing my studies in London I returned to NYC. My parents had moved back to the "Village" with my two younger sisters, Alexandra and Elizabeth, and were living a block from where I grew up. Everything was very familiar. Like so many artists before me I joined the Art Students League to study sculpture with Jose de Creeft and John Hovannes. This new medium truly seemed right for me. The carving process gave time for meditative thought and patient interrogation. Within the moments of creative intuition and moments of analysis, perception and vision became increasingly abstract. This was exciting and innovative.
In 1971, with the Edward McDowell traveling scholarship, I returned to Europe in search of stone (and the hidden image within) and settled in the small artistic town of Pietrasanta near the famous marble quarries of Italy. In this immensely exciting and creative ambience, immersed in art both ancient and contemporary, I encountered many of the Modern Masters and "abstraction" was the common language. These wonderful years spent in Italy with so many other artists, also there for the marble, brought me into contact with a large group of Latin Americans. Gonzalo Fonseca represented the "School of the South".
The influence of this Spanish-speaking group (Alicia Penalba, Jorge Piqueras, Alberto Guzman, Agustin Cardenas) brought me full circle, to my early youth, the long summers spent deep in Mexico in a little village on Lake Chapala. The experience of seeing Teotihuacan (the city of the gods) with its magnificent carvings, the Huichol Indians, Day of the Dead festivities, the dance masks and the small terracotta figures seined from the lake by the fishermen, things that had a great impact on my sensitivities both culturally and spiritually and would influence the work I created then and now.
Seven years later, married and with a small child, it was time to return home. Finding "home" was the question. My parents had retired and moved back to Mexico. My husband's family resided in Fort Worth, Texas. So, we settled in Fort Worth where we might have time to absorb all the lessons learned and establish a personal vision away from all the magnificent influences of the Renaissance. It was a necessary time for distilling the essential meaning from our long travels and studies in Europe.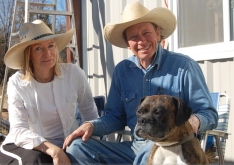 Looking for some vestige of the familiar, we found a great working studio/living space on the grounds of a steel factory. The loud noises, the welding, grinding, the overhead crane, the tractor-trailers loaded with steel, did not bother us. We ran our compressor at all hours of the day and night without disturbing anyone. On the weekends, the factory was quiet. This is where we would live and work and rear a child for the next 20 years.